MOD Kommentare... (3.1 / 5 Punkten (1439) )


Board: Fragen und Hinweise: eMule AcKroNiC.MoD-Forum...


eMule AcKroNiC.MoD Download Archiv...



eMule 0.49c AcKroNiC 5.4


Seite: 1 2 3 4 5




Click to rate...


eMule-0.47a-Ackronic-4.3-bin.rar
eMule-0.47a-Ackronic-4.3-src.rar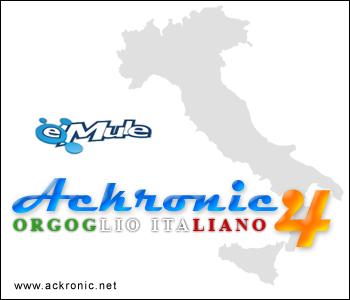 eMule 0.47a AcKroNiC 4.3
Added: ISP/NAT Traversal (v3) from NeoMule.
Added: Advance client recognition eMule+ 1.2 fix - Fix by Enig123
Added: MORPH ipfilter kad
Added: HashProgress from NeoMule
Added: More Info about .part/.met file corrupted by Mulus
Fixed: unstable upload.
Fixed: Remove IP Filtered servers bug found by SiRoB
Fixed: Collection Double Extension, Modifing an already existing one - Fix by CiccioBastardo
Fixed: Some memleak by Wizard
Fixed: "not A Valid Link" In Directdownloaddlg by BlueSonicBoy
Fixed: Some minor bug
changed: Put SearchTypeEd2kGlobal by Default
Changed: Raised block count locking thresholds in CUpDownClient::SendBlockRequests From ESE
Changed: if you set "Remove dead server" to 0 the server will not be cancelled.
Update: Anti-Leecher
Update: Trash Filter
Update: CategoryMod From MorphXT
Remove: Don't remove static server.
eMule 0.47a AcKroNiC 4.2
#Now the Quick Start start when kad is connected too.
#Added File ratings bug fix.
#Improved emulate.
#Added Safe hash
#Added Flush Thread
#Iproved PowerRelease
#Now you can set the friend slot in every windows
#Fix a grafical bug in niceHash.
#Now you can delete a file in trasfer windows
#Now you can turn off the Reask sources after Ip change
#Added the password in Family Filter
#Added the Trash Filter.
#Fixed bug in Ackronic/eMule Security Filter.
#Now when you try to connected a server spy that server will be delete
#Removed the Dazzle's faster endgame
#Added the Netfinity's Dynamic Block Requests
#Inserted SiRob's changes of m_byHelloPacketState and SendStartupLoadReq()
#Added Unknown1's new Kad patch
#Added many optimizzation code
eMule 0.47a AcKroNiC 4.1
#Added Xman remove unused AICH-hashes.
#Added Optimization requpfile. (Morph)
#Added "Do not remove static server" option (Aenarion[ITA])
#Update Dazzle's faster endgame.
#Update SLS. (Xtreme)
#Update Advantage A4AF. (Morph)
#Update Anti-leecher feature. (Stulle)
#Show pausing download in gray. (Morph)
#When you set the Control Slot to 1 you enable the Slot Focus.(Aenarion[ITA])
#Now the limit of upload Slot are 30(for Fastweb user). (Aenarion[ITA])
#Fix all major bug of Ackronic 4.0 (Aenarion[ITA])
#Fix a official bug in webserver (Gioggiolo)
# HELP button works now (AcKroNiC Team and Realtebo are translators of HELP&SUPPORT italian page)
eMule 0.47a AcKroNiC 4.0
AcKroNiC Mod is The Italian Pride now (idea by Mulo da Soma)
#Ported to emule 0.47a
#Added Advantage A4Af (MorphXT)
#Added Mass Rename (MorphXT)
#Added AcKroNiC\EneTec Servers Filter (Aenarion[ITA]) (thanks to Barbas & EneTec)
#Added "Faster endgame" (Dazzle)
#Added Official Patch for Getclosestto function (Unknown1)
#Added "Show incomplete uploading files in blue" (Aenarion[ITA]) (thanks to Mulo da Soma)
#Code-Improvement in CUint128::toBinaryString function (netfinity/Xman)
#Code Improvement for choosing to use compression (Xman)
#Update anti-spam filter
#Update bad Nick/Mod lists
#Changed the Quick Start and Reask Source after IP change (Aenarion[ITA]\Neo Mule)
#Fixed a little bug in Invisible Mode (Aenarion[ITA])
#Fixed a little bug in DiffQR (Aenarion[ITA])
#Fixed a bug in PowerRelease (Aenarion[ITA])
#Fixed a bug in Dialog Box (Aenarion[ITA])
#Fixed a grafic bug in Server List (Aenarion[ITA]) (thanks to niko*)
#Removed email notification from Notification Setting
#Removed Projected Averanges from Statistics Setting
#Fixed some other little bug and add s