MOD Kommentare... (3.1 / 5 Punkten (1439) )


Board: Fragen und Hinweise: eMule AcKroNiC.MoD-Forum...


eMule AcKroNiC.MoD Download Archiv...



eMule 0.49c AcKroNiC 5.4


Seite: 1 2 3 4 5




Click to rate...


emule0.46c_Ackronic_3.1_bin.rar
emule0.46c_Ackronic_3.1_src.rar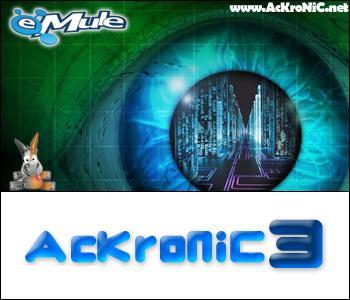 compiled with:
libpng 1.2.7
zlib 1.2.3
crypto 52.1
CxImage version 5.99c
Changelog:
eMule 0.46c AcKroNiC 3.1
#Fixed two bug in the SUQWT
#Added the invisible mode
#Added See client version
#Removed proxy
#Powershare priority are increase
#Improved the credits dialog.
#Now a complete file in PowerRelease are double priority that a incomplete file in PowerRelease.

eMule 0.46c AcKroNiC 3.0 Final
#Fixed a bug in the "Show dl in bold"
#Fixed a bug in SLS
#Added ip to country
#Added features Anti-leecher
#Added buffer time limit
#Added HIDEOS[eXtreme]
#Added DiffQR
#Added nicehash
#Changed PS[eXtreme]
#Changed control slot[Ackronic 2.1c]
#Incomplete files with more than 50 sources can't be set in PowerRelease
#Some grafic and code improvements.




eMule 0.46c AcKroNiC 3.0 Beta 3
1)Fixed a bug in SLS
2)Fixed the Powershare.
3)Aggiunta l'indicazione del numero max di slot in upload accanto alla scritta "In Upload"
4)Added show download in Bold and/or show download in Blue
5)Added show client percentage
6)Added Quick Start
7)AddedReask sources after reconettion of modem (IP change)
8)Added drop sources
9)Fixed SUQWTv2

eMule 0.46c AcKroNiC 3.0 Beta 2
1) coregge semplicemnte un bug sul controllo slot in upload


eMule 0.46c AcKroNiC 3.0 Beta
1)Aggiunto il nome della Mod
2)Aggiunto il Team di sviluppo nei crediti
3)Invertita la finestra ServerLog con Log
4)cambiati i valori dell'adsl del wizard
5)Nel wizard il puntatore seleziona l'opzione 16+
6)Cambiato il nick di default
7)Aggiunte le icone di ackronic
8)Impostata lingua italiana come default
9)Aggiunta l'ottimizzazione
10)Aggiunto il MSUQWTv2
11)Aggiunto il Save Load Source
12)Aggiunto il LOW-ID Notifier
13)Aggiunto il Control Slot
14)Ottimizzate le opzioni
15)Se si ha windows xp l'opzione 'Sparse' è abilitata di default
16)Aumentato il buffer a 10Mb
17)Aggiuto il PowerShare
18)Aggiunta l' emulazione
19)Nella finestra dei File condivisi quando un file è in PowerShare viene visualizzato in rosso e quando è incompleto in blu
20)Aggiunto Il Family Filter


Compiled with VS2003
Build version:Unicode
added: powershare sources limit [DkD]
added: Quickstart [TPT]
added: Quickstart after ip change [Cyrex2001]
added: uncomplete files in shared files list are now in blue [DkD]
added: full unicode support [DkD]
added: some resource string [DkD]
added: LOW-ID notifier [Chamblard]
- italian web-page [DkD]
changed: some cosmetic changes [DkD]
changed: variable slot number code from sivka mod [DkD]
changed: new skin from kademilaskins.net [kokaine]
fixed: my mistake - mod names not showed in download list client
other fixes and improvements