MOD Kommentare... (3.4 / 5 Punkten (2108) )


Board: Fragen und Hinweise: eMule MorphXT.MoD-Forum...


eMule MorphXT.MoD Download Archiv...



eMule 0.50a MorphXT 12.6


Seite: 1 2 3 4 5 6 7 8 9 10 11 12




Click to rate...


Binaries: eMule-0.48a-MorphXT-v10.5-bin.rar
Sources:
eMule-0.48a-MorphXT-v10.5-src.rar
eMule Wiki: Category:MorphXT-Features
German Morph Support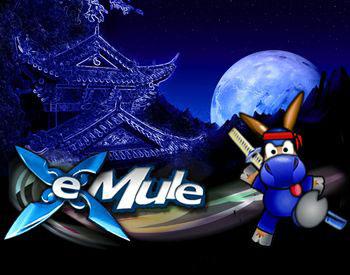 Changelog for eMule 0.48a MorphXT v10.5
----------------------------------------------------------
25-11-2007
CHANGE: USC: tuned upload.
FIX: USC: fix extreme slot explosion bug for ps 100%.
CHANGE: Clipboard watch uses clipboard chain, save a bit of cpu. [leuk_he]
CHANGE: Clipboard ed2k link file watch now queues into morph category selection.
FIX: rare heap corruption when safeconnnect is disabled. (netfinity)
CHANGE: update Safekad to warpf 0.3a.11 beta (netfinity)
FIX: KAD for filesize > 4GB (netfinity)
ADD: USS: initial TTL (stulle/MonKi)
ADD: Reconnect kad & server after resume from hibernation.
Changelog for eMule 0.48a MorphXT v10.4
----------------------------------------------------------
06-10-2007
CHANGE: USC: tuned upload:
CHANGE: USC: Upload speed sense is fucntioning again.
CHANGE: USC: Don't remove spare trickle slot disables slotfocus.
ADD: uPnP: Add some option to gui and move main setting to connenction settings like official.
FIX: Advanced prefs. save the options added in 10.3.
ADD: Chinese traditional translation, ZH_TW (eastshare)
CHANGE: Updated modicons [stulle]
CHANGE: The binary release has a server.met file included.
Changelog for eMule 0.48a MorphXT v10.3
----------------------------------------------------------
11-09-2007
FIX: Connect to not obfuscated servers (since 10.2)
ADD: Some advanced official preferences.
Changelog for eMule 0.48a MorphXT v10.2
----------------------------------------------------------
05-09-2007
CHANGED: upload completing slots behaviour.
ADD: Sharesubdir. Remember what directories are shared including subdir, share new subdirs when added (Slugfiller)
ADD: inactive UNC path/unplugged removable harddrives are remembered.
ADD: Scheduler:Reload shared files action [leuk_he]
ADD:"emule.exe reload" rescan shared directory.
ADD: USS:option to set icmp data size to workaround some buggy firewalls eq to ping -l option
ADD: AppleJuice detection (Xman/Anonymous Anti-Leecher)
REMOVED: second apply button on schedule options screen [leuk_he]
FIX: xmlnews feeddirectory corrected. (since 10.0)

+various code optimizations.
Changelog for eMule 0.48a MorphXT v10.1
----------------------------------------------------------
29-06-2007
Add: More detailed installation options. see Morph_installation_guide
Add: Installer support for the new shared usage option http://www.emule-project.net/home/perl/help.cgi?l=1&rm=show_topic&topic_id=1259

FIX: Do not save obfuscated sources.
FIX: Layout of messages tab.
FIX: Chrash on "open incoming directory" on category.
ADD: Some donwnload optimizations (when downloading at really high speeds)
ADD: Preference for disable color on categories tab.
CHANGE: Add a warning when using config in my_documents combined with NTservice.
CHANGE: Webservice.dat updated with some fake reporting services.
CHANGE: Don't update display for notdisplayed fields.
CHANGE: Spellcheck of tooltips [albion]
CHANGE: UploadBandwidth updated with zz code arround stat locker
CHANGE: Behaviour of network wizard, "custom" speed now default.
Changelog for eMule 0.48a MorphXT v10.0
----------------------------------------------------------
06-06-2007
Merged to 0.48a [Stulle]
ADD: FollowTheMajority, a new feature that will auto rename your file with majority used, default action
can be changed from ModOptions->EastShare->FollowTheMajority, can be direct active from right click
or disable by any rename operation per file based. [AndCycle]
ADD: FairPlay, at least upload one copy of downloaded file with priority. [AndCycle]
REMOVED: WebCache (http://forum.emule-project.net/index.php?showtopic=124737)
FIXED: Obfucated server only connect on first startup, Always send cryptping.
ADD: Safe KAD :slows down the spreading of bad KAD nodes & kad cpu optimizations. (netfinity)
FIX: KAD: save in coorect directory to prevent loosing kad pref under vista. (godlaugh2007)
ADD: CryptTCPPaddingLength added to advanced preferences.
Add: Anti Mod Faker [Xman]
CHANGED: Never ask confirmation when emule stopped with "eMule.exe exit"
CHANGED: Send non existing "morph 9.7" to old mods to work arround bug in morph anti leecher.
CAHNGED: Do not save obfuscated sources [Xman]
CHANGED: Calculate own score the new way for >= 0.48a clients
FIXED: Official bug when dis/enabling Queuelist/Clientslist (Xman)
FIXED: Official bug when checking for empty userhash (ilmira)
FIXED: Hang(deadlock) on exit (xman)

UPDATED:French (nicolas_FR)
italian(idro),
Simplified chinese(pennyliu123),
Portugese_braziallian(heiler bemerguy),
Spanish(guijarrelson))

Source code:
emule_all.sln & emule_71.vcproj removed. Replaced by emule.sln with depenancies.